How to choose a POS System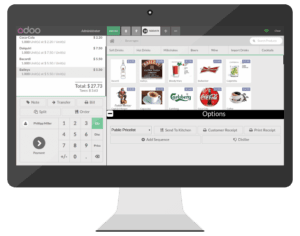 Choosing a Point of Sale or POS (Point of Sales) system for your store or restaurant can be tricky. How do you know what to ask? What characteristics are necessary to help your business grow? Buying a Retail Point of Sale System based solely on price is not a good idea because although POS software may seem like a good option because it fits your budget, it can have hidden costs like additional features, technical support, installation, and installation. general inefficiency that can eventually increase your cost of operation.
When evaluating the system, you should take into account not only your needs as a seller, but also customer satisfaction. Before you make a decision and risk investing in something that may not be what you need, do your research. Here are some tips to help you find the best POS system for your business:
Easy, Compatible and Well Supported
A complete POS system requires a computer or tablet, high-quality cash drawer, barcode scanner, credit card reader, receipt printer, and label printer. If you buy a system that is only compatible with expensive or hard-to-get hardware, then you may run into problems in the very near future.
Every business and every collaborator is different. The principles may be the same, but each store and each employee have differences and come with their own workflows, challenges, preferences, requirements, and goals. A good point of sale provider helps you determine if the software is right for your needs and will be an asset to your operation. It should also offer training and technical assistance for those times when it is required. You shouldn't be left alone as soon as you make your purchase, always be sure to ask what kind of after-sales support your supplier offers.
Reports and Analysis
Having indicators and being able to access them periodically is essential for good administration. It is important that your POS provides you with reports showing the most profitable products, the best sellers, the lowest sellers, the highest performing sales associates, the busiest hours in the store, the best brands and online sales and in stores. If possible, all this in real time and just one click away. Easy access to information will help you make better decisions such as inventory purchasing and staff scheduling.
Additional Information and Functionality
Often times, before arriving at a store, customers have already done their research and are loaded with questions, ready to pop in and out. Employees must be as informed as they are and your POS must be supportive in this regard. A good POS system shouldn't consume employees' time. You must provide them with the information they need, immediately, so they can serve customers efficiently and smoothly. It would also be convenient to be able to use your point-of-sale system to record check-in and check-out, track commissions, track employee hours, and earn similar benefits. This is why it is important that the software allows a secure login for each employee.
Marketing Tool
It is proven that less than 1 in 10 new prospects will make a purchase, while more than 6 in 10 existing customers will buy again. This is why today's top marketers are no longer sending out generic email blasts - they are building conversations with consumers and pointing out what their customers really want to know. The right POS helps improve relationships with your buyers.
Integration with Online Store and ERP
Today, many consumers research products online before buying from a physical store and there is no doubt that retailers who sell both online and in store make significantly more income than those who sell through a single channel. Imagine a store that never closes - that's the power of running an omnichannel retail operation. The right POS helps traditional retailers build online stores and sell through any channel. This is why synchronization between the web and your physical stores is critical when it comes to inventory, sales, and order requests.
Scalability
When purchasing technology, think about long-term costs and what you may need in the future. While it may be tempting to go for the simplest and cheapest system when you start out, you will regret it when you get over it a year from now. Well, in addition, moving from one system to another implies additional costs to the purchase of the new system, especially when you want to keep the information that has been collected during the use of the current system.